Scorpio
(24 October to 22 November)



Argentine tango was made for Scorpios. They love the intensity, the just below the surface tempest of smouldering passion. It takes a long time for Scorpios to become good at tango since they are too enlightened to take instruction, but learn well autodidactically. A Scorpio believes codigos should be observed by all, except him or herself. Regarding physical contact Scorpios are known to be to the point. If it was up to them the close embrace would be mandatory at all times.
Scorpio leaders will wait like a hawk on the wing for the right woman and the right music, then drop like a stone on their 'prey'. The rest of the time their dancing is low-profile as they are all-or-nothing people. Scorpio leaders treat the milonga floor as a chess board making sure they are seen by the right woman, and cabaceoing her whilst dancing but not making a move until the moment is exactly right. Cortinas are invented because of Scorpio. Otherwise they will not let go of their dance partner. Scorpio followers use the cabaceo too, for target practicing on leaders to who they hold a grudge. They will do a little cabaceo, ostensibly, then blank and ignore the leader as soon as he walks over to them, just to give in to the urge to inflict a sting every now and then.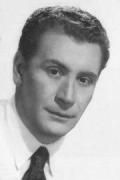 Alfredo de Angelis
famous Scorpio
in Argentine tango


Alfredo was born on 2 November 1910 in Adrogué, a suburb of Buenos Aires. His talent surfaced at an early age: Alfredo was just 10 years old and already playing the piano in several bands. As a young man De Angelis participated in a variety of orchestras during the 1930s. At the dawn of the 1940s he assembled his own orchestra, debuting in March 1941 at the Café Marzotto. De Angelis gained success with his orchestra, and was offered a contract with the Odeon label. He recorded for Odeon from 1943 to 1977. Vocal duet was Alfredo's signature sound until the mid 1940s. Later on great valses and colorful orchestrations became the trademark of 'El Colorado' (Alfredo's nickname).
Many successful orchestras existed in the 1940s: the Golden Age. Just a few orchestras managed to achieve lasting popularity regarding their recorded music during the 1950s. Alfredo's orchestra is one of these few orchestras, next to Carlos Di Sarli and Osvaldo Pugliese. De Angelis didn't have Pugliese's charisma but he was an straightforward leader with his roots in the traditional tango which was easily understood by the people. Alfredo de Angelis died on 31 March 1992, leaving behind a legacy of 486 fine tango recordings.