Tango dance music for practicing purposes
For practicing your tango steps a sufficient amount of tango music is freely available on the Internet:
- Internet radio stations providing tango music like Cienradios and RadioTango.
- Blogs like 'Tanda of the week' of DJ Antti Suniala, made audible through Spotify or Deezer. Previously, one could download Antti's tandas as MP3 for free, but nowadays that is no longer possible.
- Internet jukeboxes, but without coins, completely free.
- Music clips on YouTube like the one of Bahia Blanca by Carlos di Sarli (one of the most renowned composers in Argentine tango music). These days complete tanda collections can be found on Youtube.

For those who are searching for sheet music: check Todotango.
Argentine tango music played at a milonga
When you visit a milonga, you will notice that the music is played in blocks of 3 or 4 tracks. Such a block is called a tanda. The rhythms of the tracks within a tanda are similar: it's either tango, waltz (in 3/4 time) or up-beat milonga. At the end of a tanda there is an opportunity to invite a new dance partner for the next tanda. The usual pattern for tanda alternation is: 2 times tango, 1 time waltz, 2 times tango, 1 time milonga, etc. During the final hour of the milonga your DJ may insert a tanda with neotango music (rhythm within a neotango tanda may vary). Most of the music played at milongas is 'Epoca de Oro', music from the 'Golden Age' generally accepted as being from 1935 to 1955. Juan d'Arienzo more or less started the 'Golden Age' by reintroducing the dance beat and emphasizing rhythm over melody.
La Cumparsita, the most famous tango classic, is often played at the end of a milonga indicating that the dance event has come to an end. This tradition allows you to quickly respond by asking that special someone for the final dance of the evening.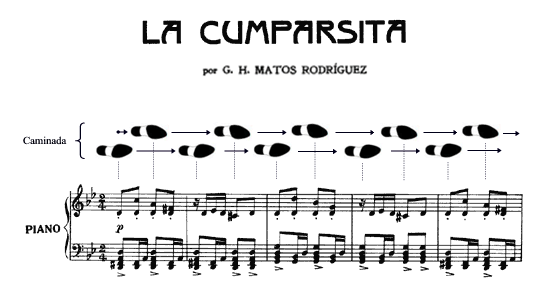 The schedule is a combination of sheet music of La Cumparsita and the step diagram technique deployed by Taste4Tango. It shows when steps are to be taken according to the beat of the music.