Aquarius
(21 January to 18 February)



At any milonga, the person dancing the most creative neotango figures is bound to be an Aquarian! Water-bearers don't do simple copy-paste dancing. That would be an insult to their unique one-of-a-kindness. Aquarians need a sufficient amount of floor space to facilitate their creativity. Therefore they are either nocturnal or tend to favor the less popular milongas. Any music suitable for tango will appeal to Aquarius, even Golden Age. Besides creative Aquarius is very practical as well. An Aquarius follower only performs a caricia if she needs a quick shoe polish.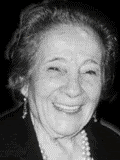 Carmencita Calderon
famous Aquarius
in Argentine tango


Carmencita Calderon was born on 10 February 1905 into a poor Italian immigrant family in the neighborhood of Villa Urquiza in Buenos Aires. Her mother would sing tango and dance by herself as she was doing the laundry and she began passing on this passion to her daughter. When Carmencita was thirteen years old her mother died. From that moment on Carmencita had to take care of the upbringing of her younger brothers and sisters. Although she loved to dance, there was no room for her to pursue her passion.
When she was 27 years old the tide turned. At a neighborhood dance Carmencita got introduced to the renowned dancer José 'El Tarila' Giambuzzi. The following day El Tarila took her to meet the legendary 'El Cachafaz'. El Cachafaz was so impressed with Carmencita's dancing that from that day on, he made her his exclusive dance partner. Her body language was unique, full of feeling and a gallant simplicity that is not learnt in academies. They made their debut with the Pedro Maffia orchestra at the Teatro San Fernando receiving an enthusiastic applause. Their ten years of collaboration would take them to many places.
But in 1942 disaster struck: at a performance at Mar De Plata, El Cachafaz died suddenly of a massive heart attack. She would never forget the shock of suddenly seeing her dance partner's body lying lifeless on the floor of his dressing room. But with tremendous personal resolve, she continued. Carmencita would in time perform with the best dancers of the era including El Negro Alfredo and Juan Carlos Copes.
In 2005, at the age 100, Carmencita did her last public performance at the famous milonga La Baldosa with dance partner Jorge Dispari. Her fans, many in tears, were ecstatic. Two months later on 31 October, Carmencita would pass away feeling fulfilled and content about her life.